As we appreciate the potential in young people, who are full of innovative ideas and enthusiasm for work, we invite them to training placements and internships at Pelion.
Our interns have had the opportunity to find out how our companies operate, and also to make their contribution to projects run by various departments of our organisation. When choosing a training placement or internship at any of the Pelion Group companies, young people are certainly taking the right step in their self-development, and also improving their chances of future employment.
A number of our employees started their careers from a training placement. Right now, they are highly appreciated experts in their fields.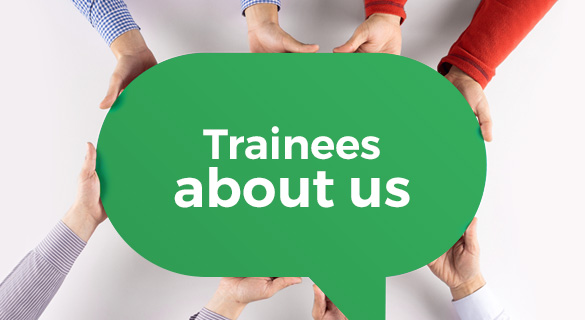 "The internship I completed at Pelion's PR department taught me a great deal and certainly met my expectations. The possibility to prepare and participate in a conference summarising half a year of the Group's operations made me understand what PR actually is in the case of such a big organisation. During my internship, I performed a number of various tasks, not only for the department where I was placed, and so I was able to gain a deeper insight into how several companies cooperate as part of a larger structure. I even had my article printed in the Bez Recepty magazine."
Ewelina Ferdzyn, former intern of the Pelion S.A. PR Department
"During my training placement, I learned to cooperate with very different people. I learned how to have the courage to perform ambitious tasks. I learned humbleness, patience, and deep analysis of various HR issues. My tutor proved to be a good mentor and teacher. I could imagine myself working for the company in the future. The work atmosphere is friendly and helpful, which makes it so much easier to perform well."
Adrianna Smoczyńska, former intern of the HR Department of DOZ S.A.
"The tutor in charge of my training and his team gave me plenty of professional support and were very friendly, contributing to my well-being at work and the fact that I was able to learn a lot from the experience - for instance how to handle the issuance of bank guarantees, report factoring costs, order secure envelopes and authorise access to online banking services. I am quite satisfied with my training period."
Sylwia Goska, former intern of the Finance Department of BSS S.A.
"My internship with BSS was a very interesting experience that will surely have a positive effect on my professional future. My assignments gave me a general idea of how a listed company operates and of the need to quickly analyse data and draw important conclusions, teaching me that practice is indispensable to systematise academic knowledge. The atmosphere among the workmates is nice; people know their responsibilities and complete their tasks properly and on time, without any negative pressure from superiors."
Daniel Gocek, former intern of the Controlling Department of BSS S.A.